Xtreme Client Awards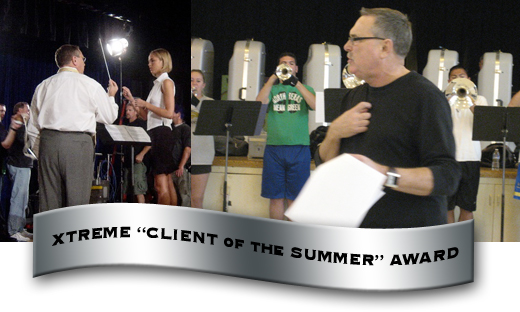 In appreciation for our XTREME clients, the individual, school or private organization who purchases the highest cumulative monetary value (purchase orders & credit cards included) in XTREME services and/or products from our website during the period of June 1, 2010 through August 31, 2010 will receive a complimentary all-expenses paid instructional clinic by world champion music teacher, arranger/composer Wayne Downey, as fully detailed below.*
The "Xtreme Client of the Year" is James Mauck, Univ. at Buffalo, Buffalo, NY. James will receive a complimentary all-expenses paid instructional clinic by world champion music teacher, arranger/composer Wayne Downey.
---
---
---
* Complimentary Instructional Clinic - All of Wayne Downey's expenses incurred in providing a clinic pursuant to this promotion will be paid for by XtremeBrass, LLC. The date of the clinic will be scheduled on a mutually agreed-upon date and time and held at a location in the continental United States, subject to Wayne Downey's professional availability. The total clinic length will not exceed four (4) hours per day for two-consecutive days or a total of eight (8) hours of instruction or curriculum/programming consultation on one day. Client shall be required to sign a standard clinician agreement with XTREMEBRASS prior to the clinic.
** The value of any XTREME products and services shall be the value listed on the XTREMEBRASS website for such goods and/or and services at the time the respective award is granted. Qualifying purchases are based on pre-tax amount and excludes any applicable shipping & handling charges.
* and ** -- Client shall have no right to: (i) assign, transfer or sell any such award, and any assignment, transfer or sale in derogation of the foregoing shall be null and void; (ii) receive any financial or other consideration in lieu of any XTREME award pursuant to this promotion. This promotion may be withdrawn, cancelled or modified without prior notice from XTREMEBRASS, LLC. All awards are provided "as-is" and "as available." Void where prohibited. To the full extent permissible by applicable law, XTREMEBRASS, LLC, disclaims all warranties, express or implied, including but not limited to, implied warranties of merchantability and fitness for a particular purpose in regards to any award or complimentary clinic provided to Client pursuant to this special promotion. XTREMEBRASS, LLC, will not be liable for any damages of any kind arising from the use of this site or any award or complimentary clinic provided to Client pursuant to this special promotion, including but not limited to direct, indirect, incidental punitive and consequential damages.