Composed and arranged by Wayne R. Downey.
Percussion by Shawn Glyde.
A revolutionary approach to the symphonic and marching band warm up that will transform the beginning of your rehearsal into an efficient, quick paced learning experience for your students.
Customize your warm-up to accommodate the amount of time you have in your rehearsal day. Create your own warm-up or choose from one of these three options:
10 minute Warm Up
15 minute Warm Up
20 minute Warm Up
Because these exercises were developed to create excellence in musical performance through repetition, listening to them is like watching paint dry. :) I would scan through the first 3:30 to get to the meat of the matter.
The exercises are written for the contemporary Marching Band with Battery Percussion and Mallet Keyboards. This package includes the Percussion Supplement.
Band Technical Skills
The exercises focus on the development of essential technical and physical skills necessary for success as a musical performer in the modern day symphonic and marching band.
Tone & Interval Accuracy
Breath Control
Woodwind Velocity
Brass Slurring
Finger & Slide Dexterity
Pitch & Tone Matching
Tuning (Tuning Progression Included)
Articulation
Tonguing
Tempo & Timing Control
Volume Development
Percussion Technical Skills
One-handed gradual warm ups with dynamics
Double beat exercises
Flam breakdowns
Timing patterns
Extended roll patterns
Advanced hybrid flam rudiments
Triplet grid type exercises
Bass drum split patterns and stacked unison patterns
Power diddles
Tenor scrapes and crossovers
Isolated flam control exercises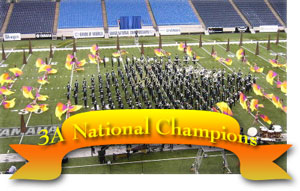 When asked about The Woodlands High School sudden rise into the ranks of the elite bands in the country Director Brett Johnson replied, "Wayne Downey's amazing new technique series titled: Technique Essentials: A Custom Symphonic & Marching Band Warm-Up was instrumental in bringing to our staff a fresh, new approach to teaching which elevated our students playing ability to the championship level."
Wayne Downey & Shawn Glyde