Composed & arranged by Wayne R. Downey.
Percussion by Shawn Glyde.
This New & Improved Custom Band Warm Up Comes With:
20% More Exercises
Teaching Strategies
Motivational Techniques
In Depth Exercise Analysis
The "How To" on Rehearsal Structure
Details on Practical Application
The exercises are written for the contemporary Marching Band with Battery Percussion and Mallet Keyboards. This package includes the Percussion Supplement.
With the successes of Volume I culminating in the ultimate achievement of The Woodlands H.S. of Spring, TX being crowned the Bands of America 3A National Champion more and more users of "A Custom Band Warm Up" Volume I are asking for more of the same great educational material to bring to their classrooms.
Included In The Warm Up You'll Find Exercises That Develop:
Breathing
Tone Production
Tuning
Tonguing
Slurring
Articulation
Balance
Blend
Finger Dexterity
Volume Development
Tempo Control
Marching & Playing Technique
Percussion Technical Skills
One-handed gradual warm ups with dynamics
Double beat exercises
Flam breakdowns
Timing patterns
Extended roll patterns
Advanced hybrid flam rudiments
Triplet grid type exercises
Bass drum split patterns and stacked unison patterns
Power diddles
Tenor scrapes and crossovers
Isolated flam control exercises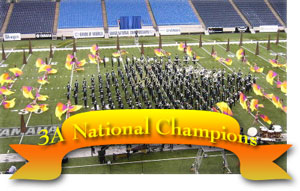 Don't Wait, Start Succeeding Today!
Bring the best educational materials available into your classroom for ultimate success… The Woodlands H.S. did, why don't YOU!
Wayne Downey & Shawn Glyde